"Physical fitness is the first requisite of happiness."  — By Joseph Pilates.
---
Welcome to WellFit4ever!
WellFit4ever is our new name. We have operated under the name Fit Pilates Al Ain for eight years. Back then, we used to offer only Pilates classes. We now offer Pilates, Barre, Yoga, as well as Health and Nutrition Coaching.
WellFit4ever is delicate to provide our community with the best mind-body exercise classes and the most up-to-date information and advice on health & nutrition. We are a family of qualified instructors and specialists who are current with our certifications and trainings.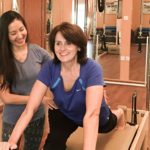 Our studio is a private boutique studio which has been popular to both Westerner expats and local Emiratis since 2009. We offer private coaching in studio and at clients' locations. At WellFit4ever, we care about our clients/students' safety and training results. Therefore, we keep our group classes small, so every student receives lots of corrections and individual attention you deserve. We apologize in advance that we do not take walk-in students. All classes and private lessons require advanced bookings.
Our clients/students are regular attendants. That keeps the atmosphere of our classes warm and friendly. Our studio is not only a place for getting fit; it's also a place to connect and socialize with people with similar interests. It's a mind-body studio!
Whether you are looking for an exercise routine, a new workout challenge, a post-rehab program, or help with a nutrition program to improve your overall health, WellFit4ever is here to help.
---