"Physical fitness can neither be achieved by wishful thinking nor outright purchase…"
— By Joseph Pilates
---
Mat Pilates
Class focuses on a series of exercises integrating control, flexibility, strength, precision, breath, flow of movement and body awareness. You'll work from the deepest layers of muscles, which stabilize and support your spine and pelvis, resulting in a strong, flexible spine with ideal posture and alignment. Classes emphasize principles of Pilates while offering modifications and variations to suit each student's individual needs. Expect plenty of personal attention and guidance on your form to ensure safe movement. Our mat classes are often incorporated with the use of props. Props add variety and fun. Props can either be used for support or for challenge. We have a wide range of props–Pilates Arc, Foam Rollers, Stability Balls in different sizes, Weight Balls, Resistant Bands, Pilates Rings, etc.
If you are new to Pilates and have no experience with mind-body exercise class, you may be required to take a course of private lessons before joining our class.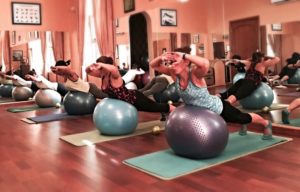 Pilates Equipment Circuit
Our newest offering!  Join us for a circuit class where you'll rotate between stations featuring the most functional Pilates equipment and props – the Pilates Reformer With Tower, the Stability Chair, the Ladder Barrel, the Pilates Arc, the Rotator Disc, the Stability Ball, and many more!  This workout is fun and offers a huge variety.  Result is a well-rounded workout. As with all our classes, we offer this class to you with a commitment to quality movement, safety and focus on good alignment.
TotalBarre
High-energy and dynamic, Total Barre integrates elements of Pilates, dance, cardio and strength training, and is fully modifiable to suit each student's individual needs. The Total Barre workout emphasizes the correct biomechanics of movement combined with the power of music to increase strength, flexibility, stamina and dynamic stability. We use the chairs instead of traditional ballet bar and a variety of small props, such as resistant bands and stability balls. Total Barre is a program geared for everyone—no dance experience or tutus are required! You will be getting not only the safest and most impactful barre program available, you will have fun doing it!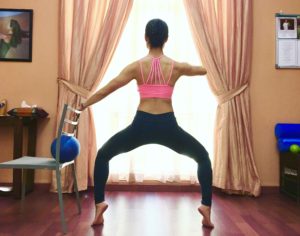 Yoga
Currently we offer Vinyasa Strength Flow. Vinyasa means a gradual progression or a step-by-step approach that systematically and appropriately takes a student from one point on their mat and safely lands them at the next point. The idea of this class is to be fully aware of your flow of energy, movement, and presence. Students will build strength, flexibility and concentration while cleansing the body and calming the mind through this Vinyasa Strength Flow class. This class is suitable for everyone, including beginners.